>>Subtitles Troubleshooting
For an explanation on how to embed subtitles on converted videos, please view our embedding subtitles FAQ here.
If you've followed the steps described in the FAQ above and subtitles aren't being recognized or displayed properly, follow the steps below. (GOM Video Converter supports subtitles in srt or smi format to embed.)
1. Double-check to make sure the names of your video file and your subtitle match (if you're converting a file called "Sample.avi", make sure the subtitle file is called "Sample.srt").
2. Try playing the original video file in GOM Player to confirm that the subtitles are working. If the subtitles aren't displaying properly on the original file, it's likely that there is a problem with the subtitle file itself.
3. Make sure the "Show subtitles" option is selected in GOM Video Converter. You can find this option by clicking on the [Settings] button under "Output Info", clicking on the "Subtitle Tab", and looking under the "General" heading.
Furthermore, under the "General" heading you'll notice that you have a choice between "Subtitle overlay" and "Closed Caption". In most cases selecting "Subtitle overlay" is recommended. "Closed Caption" is a special subtitle setting designed to be used with .MP4 files for Apple devices like iPhones and iPads. For more information on "Closed Caption" subtitles, refer to the FAQ here.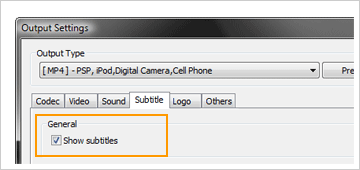 4. Finally, click on [Confg.] and navigate to the "Subtitle" tab. Under "Select subtitles", select "Display all subtitles". Some subtitles may not be displayed if you're using the option that limits subtitle display to a given language.