The process for purchasing and registering a GOM Video Converter License Key is as follows:
1) Create a free user account at http://www.gomlab.com and log in.
*In order to avoid potential confirmation errors when using PayPal, it is recommended that you use the same e-mail address for both your PayPal account and your gomlab.com account.
2) Go to the GOM Video Converter full version purchase page, and then click on the [Buy Now] button for the type of license you wish to purchase.
3) Payment can be made via PayPal or by credit card.
4) After your payment has been processed, you can find your license on the View License page.
5) To unlock the full version, launch GOM Video Converter and input your License Key and e-mail address in the registration window (pictured below).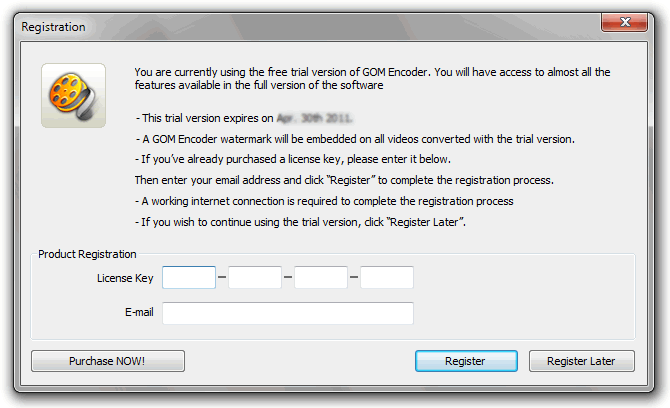 License registration is processed online so an internet connection is required.
6) Once registration has been completed, the full version will launch.
If your payment has not been confirmed due to reasons such as prematurely closing the payment page or a mismatch between your account e-mail address and PayPal e-mail address, the free trial version of GOM Video Converter will launch.
If your payment was prossessed successfully (and you've completed the registration process) but are still being logged into the trial version, please contact us via the GOM Video Converter Support Center.