GOM Video Converter
Guide
>> Installation
Download the program's installation file, and then execute the installation wizard by double-clicking it.
After executing the installation wizard, proceed with the installation in the following sequence.



Select a language for the installation wizard, and click the [OK] button.



Start the installation by clicking the [Next] button.



This is the step for agreeing to the software end user's license agreement (EULA). After reading the EULA carefully, if you agree to its contents, click the [Agree] button. If you do not agree to the EULA, then you cannot install the program.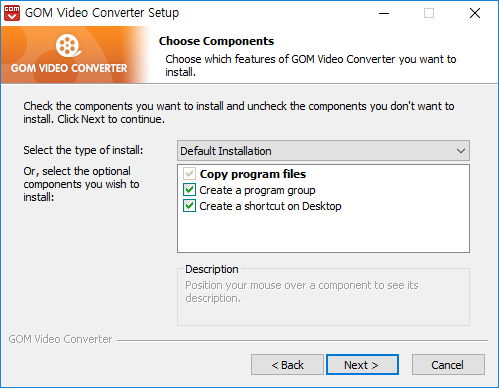 This is the step for selecting the components for the program installation. If this is the first installation, "Default Installation" will be selected automatically. If you desire to select components on your own, then select the "User Defined" installation type and select the desired components. After selecting components, click the [Next] button.



This is the step for selecting the program installation path. If you wish to change the installation path, then click [Browse], and select a different folder. Clicking the [Install] button will proceed with the installation.



The program installation is complete. If you check "Run GOM Video Converter" and click the [Finish] button, then the installation wizard will be closed and GOM Video Converter will be executed.